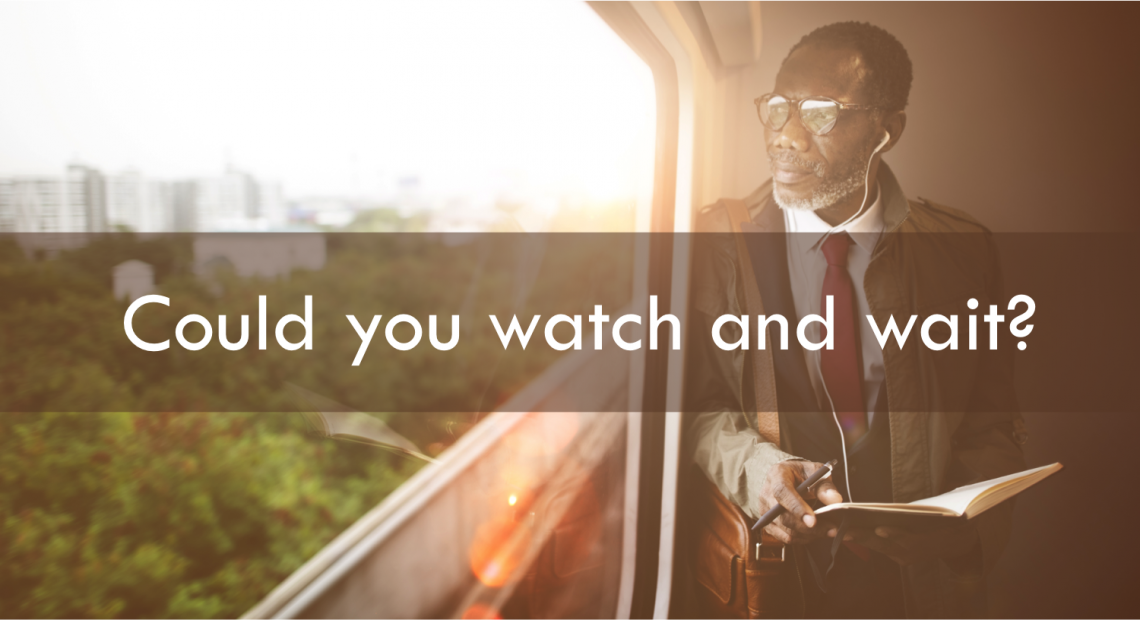 Stunned. Distressed. Angry. These may be some of the emotions that you may be feeling after receiving a diagnosis of prostate cancer. The C-word strikes fear into the hearts of all people and does not discriminate on the basis of race, ethnicity, religion, sex, or sexual orientation. It hits you in your core.
Typically, once a prostate cancer diagnosis is made, the next step is to talk with your doctor about scheduling radiation and chemotherapy, possible removal of the prostate gland, and what your prognosis is with those treatments. Weeks or months of uncertainty will follow along with side effects from treatments, but with your strong resolve and the strength of your friends and family, you'll get through this.
However, what if, following your prostate diagnosis, your doctor says that the plan is to just watch and wait? Could you do it? Could you risk deviating from the "typical plan?"
Many prostate cancer doctors are finding merit in the active monitoring plan which involves screenings, blood tests and prostate biopsies, but no "traditional" treatment.
A recent 10-year study by the Prostate Testing for Cancer and Treatment (ProtecT) group held a study of over 1,600 men in the United Kingdom with a median age of 62. The study was focused on finding the merit in the active surveillance approach.
The 1,643 men had been recently diagnosed with prostate cancer. Some had less-aggressive tumors and some men's tumors were aggressive. The men were randomized into three groups: a total of 545 men were randomly assigned to active monitoring, 553 to radical prostatectomy, and 545 to radiotherapy. ProtecT found that half of the men who took the "watch and wait," active monitoring approach didn't need further prostate treatments. Prostate cancer typically grows slowly, and these men were able to avoid unpleasant side effects of radical prostatectomy and/or chemotherapy/radiation treatments.
The study further showed that while the men who were randomized into a group which received radiotherapy had outcomes which were more favorable (less or no cancer progression), the outcome of all the men after 10 years showed an almost 100% survival rate of prostate cancer-specific deaths. The men continue to be followed to further document their progress.
Not all prostate cancer experts completely agree with the findings of the U.K. study.
Dr. Anthony V. D'Amico of the Dana-Farber Cancer Institute in Boston, Massachusetts concluded that, "if a man wishes to avoid metastatic prostate cancer and the side effects of its treatment, monitoring should be considered only if he has life-shortening coexisting disease such that his life expectancy is less than the 10-year median follow-up of the current study."
Dr. Timothy J. Daskivich, a urologic oncologist and director of health services research for the Cedars-Sinai department of surgery in Los Angeles sees the merit in active monitoring, but with some reserve. "It's all about treatment selection ― picking out patients who have higher risk disease who should get treated upfront, and those who have lower risk features who don't need to be treated and managed with active surveillance," said Daskivich. "That's going to be the challenge in the coming years."
According to an article published in The New York Times, in the United States, 40 percent to 50 percent of men diagnosed with prostate cancer are choosing an active monitoring approach, when their prostate tumors are localized within the prostate gland and have not spread to other parts of the body.
Speaking with your doctor is imperative when considering the "watchful waiting" approach, as he/she will take into account the stage of your prostate cancer, the aggressiveness of the tumor, and your overall health.
COMING SOON: What is there was a treatment option for prostate cancer that would allow you to skip the aggressive treatments such as surgery and radiation (and skip their unwanted side effects) but still remove the cancer? New technology and less invasive prostate cancer treatment options, like HIFU, are giving men more choices and less risk of side effects that diminish quality of life. Striking that balance of cancer control and quality of life can be tough, but it can be done!