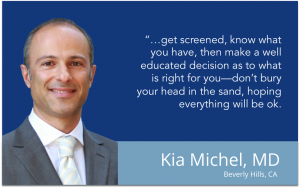 This week we spotlight a doctor who believes that the human connection is the most important part of being a physician. He sees practicing medicine as a privilege. Learn a little more about Dr. Kia Michel as he answers a few questions below as a part of our Spotlight on a Doc series! You can read more Physician Spotlights here.
1. What was your main motivation in becoming a doctor? When did you decide on this path?
Being able to help people with their medical issues is a privilege. Being a surgeon takes that privilege to another level.
2. How did you decide on your particular specialty? Why urology?
I was drawn to the fact in urology there are a breadth of medical and surgical conditions that can be effectively treated. I was, in particular, drawn to urological cancers and found it empowering to be able cure patients with urological cancers while maintaining the quality of life.
3. What is your favorite part about being a physician?
The human connection.
4. When did you first learn about HIFU as a treatment for prostate cancer?
I first learned about HIFU in the year 2000 while in France for a medical conference.
5. When did you become involved in treating patients using HIFU technology?
January 2016
6. Why did you initially become interested in HIFU as a treatment for prostate cancer?
Focal therapy—treat the cancer without over-treating the patient
7. What different types of treatments do you offer men with localized prostate cancer?
I offer patients a range of treatment options depending on their diagnosis. These options include active surveillance, robotic prostatectomy, radiation, brachytherapy and HIFU.
8.  How do you decide if HIFU is right for a patient?
In order to determine if HIFU is right for a patient, I look at the following items:  Cancer type, volume of disease, location of disease, size of gland and internal architecture, prior therapies, sexual and urinary function, condition of rectum as well as patient interest.
9. There are obviously a lot of different treatments for prostate cancer; where do you think HIFU best fits in the prostate cancer landscape? I strongly believe that HIFU is perfectly positioned for focal therapy of prostate cancer.
10. In recent years there has been some discussion about over treating prostate cancer and even changing guidelines on when men should start getting regular screening for prostate cancer. What do you tell men?
The issue is over treatment—that doesn't translate into not screening—get screened, know what you have, then make a well educated decision as to what is right for you—don't bury your head in the sand, hoping everything will be ok.
Contact HIFU Prostate Services today for more information about treatment options and diagnosis.